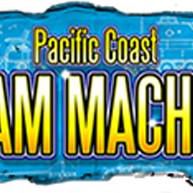 http://dreammachines.miramarevents.com/
This is an event organized by our friend Jim Williams down in Pacifica.
It's a great car, plane, mc, scooter, bicycle, tank show. We usually meet up in the city and roll down to meet Jim and other riders around Pacifica then we enter the show to exhibit our bikes together which is more fun than it might sound like.
We wander around for a bit checking out all the cool bikes, planes, cars, and etc. Have a little potluck picnic and head back up the coast.
Here is the Update from Jim:
Hi Scooter Friends,
Come to Half Moon Bay Airport to show off your "Dream Machine"
We will meet at Café Classic in El Granada (Intersection of Hwy 1 and Capistrano Road, East side, across from the Easy Mart Gas Station, behind the Restaurant at 8:30.  Depart at 9:00 sharp to ride to the airport and our roped-off area.  There is coffee and yummies at Café Classic.
Vintage bikes go first, and in the front line at the show.
Bring your picnic lunch and a blanket.
I'll lead a backhills ride at 2:00 for those interested in the sights.  Pro'lly take an hour and a half back to HMB.
Your cost is $10.  We get a special group deal.  Other participants pay $40.
Kindly email me RSVP so I can plan the space.
Also, kindly pass this email on to all scooter groups you know of and individuals.
Best,
Jim Williams