Port Costa Ride Review – Saturday, March 16, 2013
We had a great ride last Saturday, March 16th to one of our favourite places – the Warehouse Bar in Port Costa (not far from Benicia).
It's a great super biker friendly bar, with some food available. They often have a bbq and live music on during the riding season weekends. Drinks are always doubles unless you request otherwise (I learnt that the hard way one of the first times I went there, haha. Luckily in a car, and me not driving!)
Myself, and two other East Bay gals, Jen and Nicole, met up at Cole Coffee in Claremont, with Erin, Michelle and Penni who had come over from the city.
We enjoyed a ride up into the East Bay Hills, through Wildcat Canyon, over to Bear Creek and Alhambra Valley Roads over to almost Martinez to take Franklin Canyon Rd  to sneak in the back way to Port Costa.  Along the way I saw Emus and a Peacock!! Plus some really fat lambs.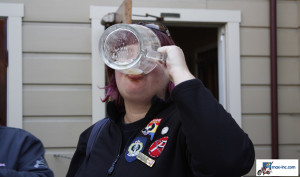 There we enjoyed a snack, liquid libations, and GLORIOUS sunshine! I was kind of surprised at how quiet the bar was given the niceness of the weather and the roads. But it was nice to just relax and chat.
Heading back, alas we had to lose Penni, Jen and Nicole along the way to other engagements, but Michelle, Erin and I enjoyed an early dinner/late lunch at Scends restaurant on San Pablo Ave in Oakland. Chicken Wings to die for!! If you came on our one day rally ride last year, you might have gone there.
It was a nice way to kick off my riding season, and I look forward to enticing more people over to enjoy our East Bay riding, so I don't have to schlep over to the city, haha.
cheers, – Jo